We've created a new WordPress plugin that lets you more easily clear Cache - either by a click of a button in the plugin settings or you can set to automatically clear cache when new content is added.
Well, maybe saying we "created" is a little misleading… We forked the very handy NGINX Cache plugin to make it work better with Cleavr as well as to get around an issue with the NGINX Cache plugin which is that it doesn't work when assigning a site to a different server user. The plugin unfortunately only works for the default NGINX user that it's running on, which in Cleavr's case is the 'cleavr' user.
With our new forked version, you can simply supply the clear cache hook that's provided in the NGINX Cached section of Cleavr.
Would you like to try out the beta version of the plugin?
Installation Instructions
Download and install plugin
Add plugin to WordPress
In your WordPress admin section, go to the plugins section and click Add New.
Next, click on Upload Plugin and then upload the wordpress-plugin.zip file that you downloaded previously.
Activate the plugin and then click on settings for the new Cleavr plugin.
Configure plugin settings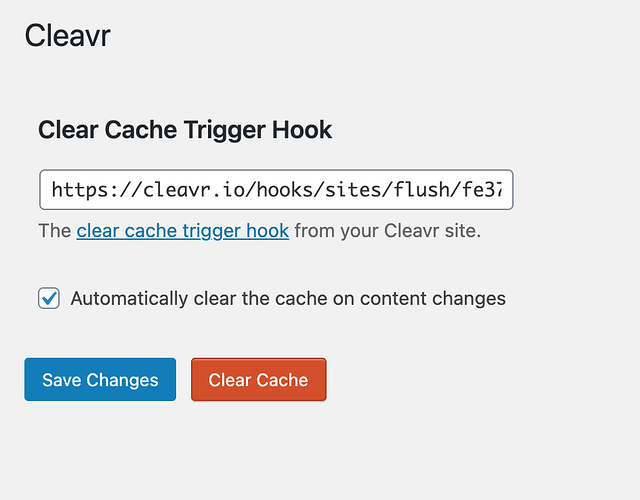 Add in the Clear Cache Trigger Hook that is found in Cleavr > Server > Site > FastCGI.
Note - you will need FastCGI to be enabled for your site for this plugin to work.
If you'd like the cache to be cleared every time content changes, enable the option and cache will be cleared automatically.
Clicking the 'Clear Cache' button will clear the cache for your site.
Help us make it better
Let us know if you run across any issues with the plugin by commenting below.
Want some additional features for the plugin? We'd love to hear them! Add a comment below and let us know your thoughts.