This is perplexing. I have 2 sites pointing to the same branch on the same repo of a Quasar SSR/PWA app. Both sites are identical. The only difference is that one has a temporary domain and the other a custom domain.
Everything is fine on the site with the temporary domain. But on the custom domain, not so much.
• The app on the custom domain does not boot as performant as the temp domain site. The below pic is a side-by-side comparison of each site loading after clearing each site cache and opening in a private browser. The site on the left is the temporary domain, and the data that is fetched on the boot-up of the app is painted almost immediately (as expected). However, the same code on the site with a custom domain hangs. As a result, our Lighthouse is way down compared to the other site even though it's the same code.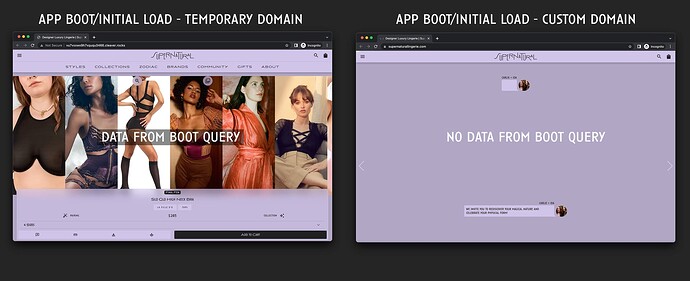 • I see a hydration error that shows up only on the custom-domain site, and only on the first page loaded. It goes away on refresh or subsequent visits. Again, strangely, this only happens on the site with a custom domain. The temporary domain doesn't have any hydration errors. And because the error on the custom domain goes away on refresh, I can't do any process to isolate the error on a breakpoint/re-run method.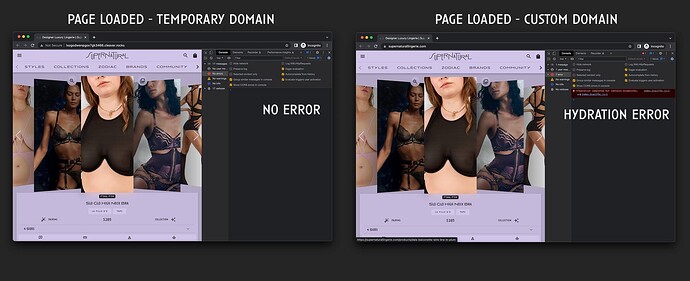 This feels very weird to ask but are there any ideas out there as to why I'm getting an error and slower performance from a site with a custom domain compared to that with a temp domain that shares identical code repo and branch?
Many thanks, Cleavr'ers.